An Ember in the Ashes is an amazing Fantasy by Sabaa Tahir, I couldn't believe it was her debut book, I was seriously hooked from the very first page! The story paces up quickly and is set in a war zone around The Empire.
Sabaa Tahir brings us an amalgamation of The Roman Empire and A Thousand and One Nights – yes the Russian and Arab mix is quite what it's about, with magic and military intrigues, friendships and strengths, impossible challenges and cruel heists, there's everything packed for the Emberling!
The Empire
The Martial Empire has been a dominant power for 500 years, having subjugated an ethnic group called the Scholars, partly through the prowess of Masks, elite soldiers ruthlessly trained at the Blackcliff Military Academy, whose faces come to fuse with the metal masks that mark their station. But now that the current Emperor is heirless, the mysterious Augurs have decreed that a new Emperor is to be chosen from among the Masks at the Academy, through a series of Trials. Against this backdrop, Laia, a Scholar girl, loses what's left of her family to the Masks, and she must work with the Resistance to rescue her brother from an Empire prison; meanwhile Elias, a Mask of high standing, seeks to escape the Academy for a kinder, easier life, but learns that the Augurs have other plans for him. Their perspectives alternate and their paths cross, irrevocably changing both.
Laia's journey from frightened runaway to capable spy is compelling, while Elias' struggle to maintain his integrity in a shockingly hostile environment is appropriately tense. The villains, in particular, are frighteningly effective, the Academy Commandant's casual-seeming cruelties foremost among them: Tahir renders violence extremely well, and the physical and psychological effects of that violence are believable and lasting. I also enjoyed watching the world's magic grow from a whisper to a scream, laying the groundwork for future developments. Essentially, even though the setting feels more built from analogs than originality, a little suggestion goes a long way, and the result is frequently riveting.
Fast-paced, well-structured and full of twists and turns, An Ember in the Ashes and A Torch against the Night are both evocative and well leave you intrigued and hungry for more.
Spoiler Free Review
A Torch against the Night 2016
Promised in 2018
 The Blackliff Academy 
The Empire World
Setting of the first book
The Author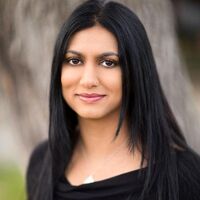 Sabaa Tahir spent her childhood in the Mojave Desert, where she didn't have cable and thus chose to entertain herself with books and radio. Her parents assured her that she wanted to become a doctor, but a brief stint working in a hospital changed her mind. She left the desert for University at 17, graduated from UCLA a few years later, and went to work for The Washington Post directly after. Five years later, she left the Post and started working on a book.
Content Credits: AMAL EL-MOHTAR